Quebec Pavilion Hostess Hat, Anita Pineault, 1967. Gift of the Quebec Pavilion, M967.93.2 © McCord Museum
Expo 67, Canada's first Universal and International Exhibition, marked a high point in the history of Montreal, Quebec, and Canada. From the dreamlike futuristic environment built mainly on Ile Ste Hélène and Ile Notre Dame in the middle of the St. Lawrence River, the 90 pavilions of Expo received more than 50 million visits between April 27 and October 29, 1967.
Expo embraced visual image, display, and spectacle to promote its optimistic and forward-looking world view. Its medium and message resonated with the Canadian fashion milieu.
Designers and industry recognized and seized Expo's many opportunities, blending fashion into its modern mix of art, architecture, technology, and design. In the years leading up to Expo and especially in the summer of '67, Montreal experienced an effervescent fashion moment. Although relatively little formal or official programming was focussed on fashion at this groundbreaking event, designers, promoters, and industry ensured that fashion was in the spotlight, furthering the aims of fashion stakeholders as well as those of the larger Expo project.
For instance, as organizers informed the world of Expo's vision—cosmopolitan, futuristic, and exciting—fashion magazine spreads became a form of unofficial advance publicity for the event. Offering a photogenic backdrop, Expo was the site of many fashion shoots for almost two years before its opening; the resulting images complemented official pictures, to the benefit of both fashion and Expo.
Perhaps the most ambitious fashion project at Expo was the uniform program for its hostesses. Expo 67's visual spectacle of modern national identities sprang not only from its architecture and exhibits, but also from the cohort of young women hired as Expo's official presence. Every day, between 1500 and 1800 hostesses provided a highly visible and approachable human interface between the public and the pavilions and site. While hostesses had to speak more than one language and be quick learners in order to provide information about events and programmes in their pavilions and on the site, recruiters unabashedly stated that a charming personality and good looks were essential to the job. Hostesses received training in personal grooming, including how to style their hair, apply makeup, press their uniforms, and put on and take off a coat gracefully.
Nations and pavilions identified their hostesses with distinct uniforms. The emblematic outfits made these young women a focus of public attention. Many uniforms stood out as fashion-forward reinventions of the genre; however, they almost always included the traditional accessories of hats and gloves. Others were notable for borrowing elements from their country's traditional dress. Across the site, they provided a common visual language, conveying Expo's humanistic message of unity among nations.
Several pavilions chose up-and-coming young designers with name recognition to translate their ideologies and aspirations into hostess attire.
For these designers, it was an exceptional opportunity to shine on a world stage. Young Montreal couturier Michel Robichaud made headlines when he created the sky blue uniform for the official Expo 67 hostesses, whose presence across the entire site made them the most visible of all. He topped the suit with a distinctive hat, with sections in dark blue, sky blue, and white, to be recognizable from a distance. To convey a professional image, a conservative knee-skimming skirt, common to many Expo uniforms, was favoured over the more fashionable mini length.
Robichaud also dressed the hostesses of the Canada Pavilion, the Indians of Canada Pavilion, the Telephone Pavilion, and the Federal Republic of Germany Pavilion, as well as uniformed Expo personnel for CIBC and Hydro-Québec. Serge & Réal won the design competition for the uniform of the Quebec Pavilion hostesses. Montreal designer John Warden dressed the hostesses of the Canadian Pulp and Paper Pavilion, the Canadian National Pavilion, and the Chatelaine House. Marielle Fleury created a uniform for the Atlantic Provinces Pavilion. These Montreal-based designers received media attention along with international designers of greater renown like Jean Patou and Jean-Louis Scherrer, who created the French uniforms, Sorelle Fontana, who dressed the Italian hostesses, and Bill Blass, who was chosen to dress the Americans.
Expo 67 Hostess Uniform, Michel Robichaud, 1967. Gift of Sybilla J. Mannsfeldt, M2012.50.1.1-4 © McCord Museum
Canada Pavilion Hostess Uniform, Michel Robichaud, 1967. Gift of the Canada Pavilion, M967.85.3-7 © McCord Museum
Canada Pavilion Host Uniform, Michel Robichaud, 1967. Gift of the Canada Pavilion, M967.85.8-11 © McCord Museum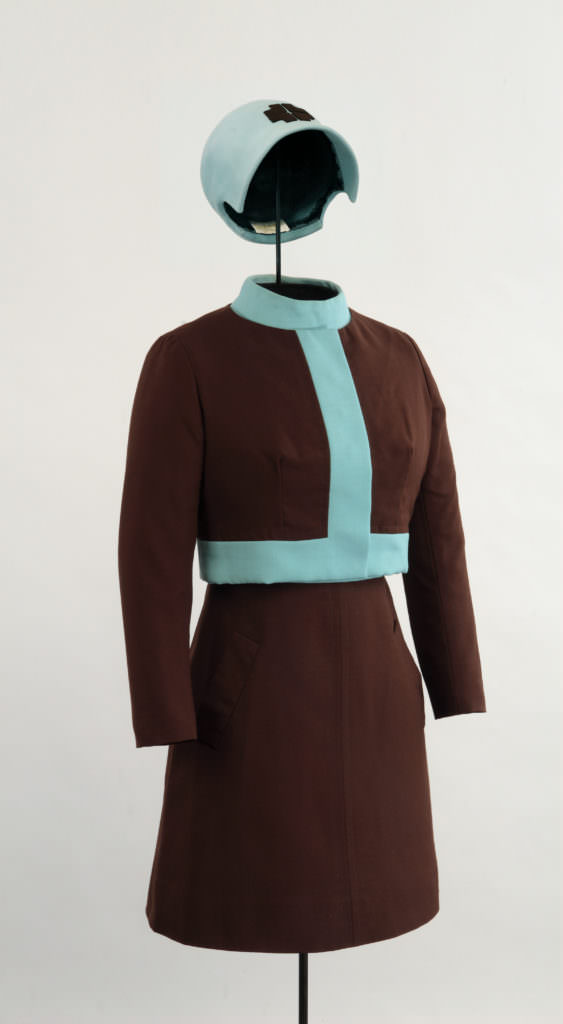 Quebec Pavilion Hostess Uniform, Serge & Réal, 1967. Gift of the Quebec Pavilion, M967.93.1-2 © McCord Museum
Quebec Pavilion Hostess Hat, Anita Pineault, 1967. Gift of the Quebec Pavilion, M967.93.2 © McCord Museum
Indians of Canada Pavilion Hostess Uniform, Michel Robichaud, 1967. M967.99.1-2 © McCord Museum
Atlantic Provinces Pavilion Hostess Uniform, Marielle Fleury, 1967. Gift of Sheila De Lory, M969.14.1-6 © McCord Museum
Canadian Pulp and Paper Pavilion Hostess Uniform, John Warden, 1967. Gift of the Forest Products Association of Canada, M2014.44.1.1-3 © McCord Museum
Christian Pavilion Hostess Uniform, France Davies, 1967. Gift of the Dre Esmeralda M. A. Thornhill, M2016.93.1.1-3 © McCord Museum
Telephone Pavilion Hostess Uniform, Michel Robichaud, 1967. Gift of Ruth Boies, M2007.109.1.1-6 © McCord Museum
Beyond the hostess uniforms, fashion was most visible at Expo in the scheduled programming at various pavilions.
Representatives from Canada's ready-to-wear industry collaborated to ensure that Canadian fashion was featured in a weekly show called the Great Canadian Fashion Caper, staged at the outdoor theatre of the Canada Pavilion.
They hired producer Iona Monahan to create an "outstanding fashion spectacular," tapping into Expo's fervour for broadening familiar notions of spectacle in other media. The fast-paced show set to live music with dancing and roller-skating models drew 1000 spectators every Thursday afternoon. To showcase the creative strength and economic force of the Canadian fashion industry as a whole, rival manufacturers agreed to remain anonymous. The show included all fashion sectors: primarily women's wear but also men's and children's clothing, some fur, and sportswear and accessories of all types.
Many other participating countries at Expo 67 proclaimed their modern identities by including fashion in their programming. Fashion's most ardent champion was the USSR, which waged the Cold War by showing visitors the many ways in which it was an advanced nation. Both the USSR and Czechoslovakia brought their own models to stage daily fashion shows in their pavilions. The Federal Republic of Germany and France each held a single fashion show on the Expo site, but took advantage of the opportunity to stage shows in other Canadian and American cities. Italy and Britain used static window displays to show the fashion for which their nations were known. Twiggy, the modelling sensation of the moment, visited Expo and promoted her own line at Eaton's department store.
Cocktail dress, Michel Robichaud, 1967. Gift of Marie-Claire Boucher Drapeau, M2007.149.6 © McCord Museum
Dress, 1967. Gift of Denise Philippon, M2014.86.1 © McCord Museum
Hat, Henry Morgan & Co. Ltd., about 1967. Gift of Cheryl Goffman, M2016.105.1 © McCord Museum
While Expo 67 was designed to be a cultural and decidedly non-commercial event, many industry sectors were keenly aware of the tremendous opportunities for Canadian businesses, particularly in developing export markets.
Fashion was no exception, and the fur sector in particular took advantage of the opportunities Expo offered. Both industry organizations and private businesses mobilized early on to make fur very visible and synonymous with Canadian fashion at Expo. The Quebec Pavilion featured furs in its displays on natural resources. Montreal-based furrier Grosvenor teamed up with SAGA, the Scandinavian industry association, to produce twice-daily shows in the Scandinavia Pavilion. Holt Renfrew provided Queen Sirikit of Thailand with a private viewing of furs.
Fashion was part of Expo's message in more subtle ways as well. Well-dressed dignitaries whose activities were covered by the media were another vehicle for fashion messages. Marie-Claire Boucher Drapeau, wife of Montreal Mayor Jean Drapeau, wore her civic pride quite literally on her sleeve, seeing her formal wardrobe as an opportunity to endorse local talent. Over the course of the summer, she wore several formal gowns by Michel Robichaud.
Much about the way fashion was featured at Expo 67 shows how it had yet to make inroads into other modes of artistic expression and be recognized as a creative field. While Expo was a forum for experimentation in many creative genres, little of the fashion presented on-site actually broke new ground. One exception was a series of concept-driven dresses created by designer Jacques de Montjoye shown at an Association of Canadian Couturiers fashion show in June at Expo. They referenced a distinct Québécois identity and the counterculture concerns of civil rights and anti-war sentiment, bringing fashion into the territory of art. His statements were all the more provocative given that Expo 67 seemed far removed from the social tumult of its time, as the celebratory narratives of most exhibits obscured conflicts between or within nations. A fashion show was the last place a visitor expected to be confronted with controversy. In fact, the media found the couture creations of the eleven other designers at the show a bit staid. Fashion headlines had already turned to fresh young ideas and couture was old news. The Association would fold the following June.
The gendering of fashion at Expo also betrays how fashion was still entrenched in traditional concepts. The Expo theme, Man and His World, was chosen at a time when "man" was seemingly inclusive of all humankind, yet fashion was overwhelmingly positioned as a women's interest at Expo. Most of the garments presented on runways and in the static window displays inside pavilions were for women, yet the majority of name designers were men. However, on site, Expo and fashion were enjoyed by all.
Although most of the fashion seen at Expo 67 would already seem passé by the following year, the notion that Montreal was at the forefront of new ideas, and that fashion was part of what it had to offer, was etched in the public consciousness.
Hostess uniforms and many other garments worn or featured at Expo 67 are found in the collections of the McCord Museum.
Publication date
01/10/2004
© MCCORD STEWART MUSEUM 2023