Maryse Roye
Born in Montréal, 1961
Since 1981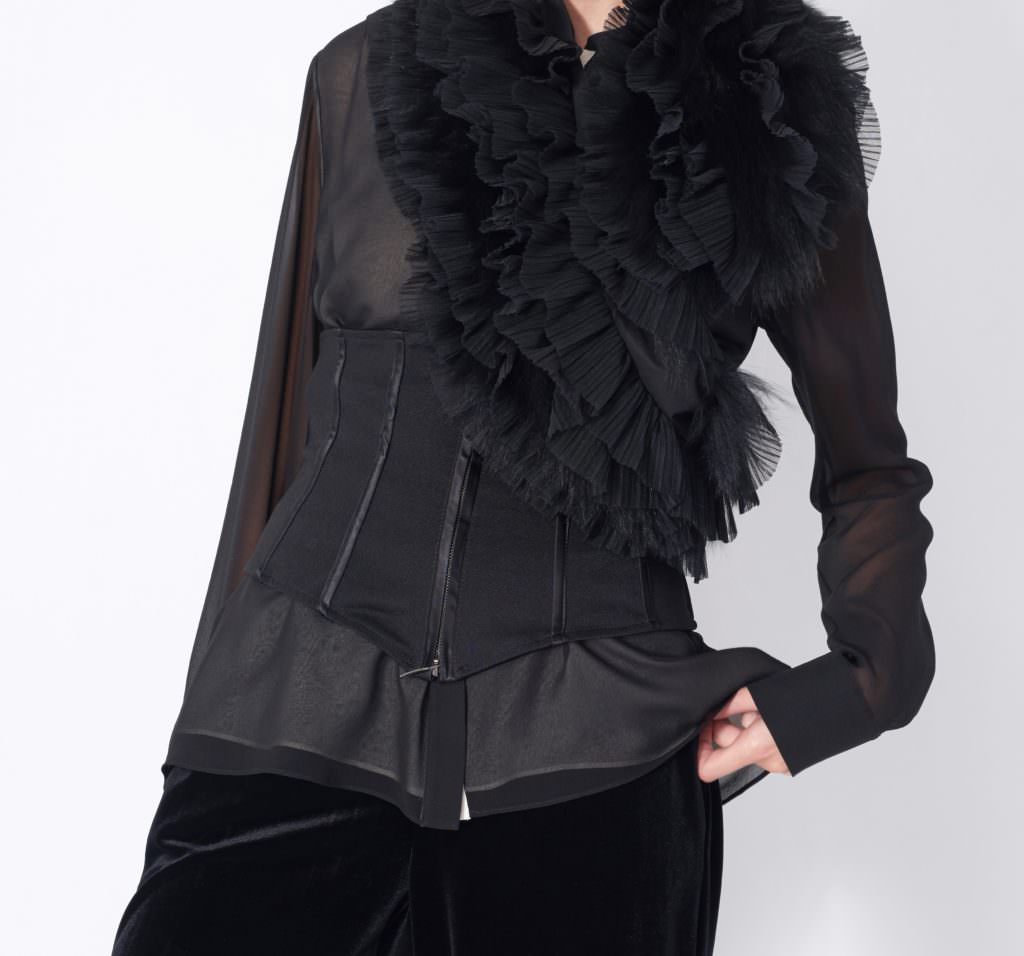 Maryse Roy's work (detail), 2018 © Nat Gorry. Photo courtesy of Maryse Roy
Maryse Roy is a fashion designer specialized in high-end women's outerwear. Using the label Maryse Roye, she has created coat collections for various brands throughout her career.
A graduate in fashion arts from Montreal's Collège Marie-Victorin, Maryse Roy started working in the fashion industry as a design assistant for manufacturer Bagatelle in 1981. The following year, she was hired by the George Kiss company, where she designed leather and suede clothing under her own label until 1991. In addition to this work, from 1985 to 1991, she created women's coats for Montreal manufacturer Shiff & Co., where she also used the Maryse Roye label.
Maryse Roy participated in many group fashion shows in the 1980s and quickly established a reputation.
She was recognized not only by the public, but also by her peers, leading her to become president of the Association des créateurs de mode du Québec from 1987 to 1989.
In the 1990s, she worked as a designer for a series of companies: Manchester (1991–1993), Paris Star (1994–1995) and Esteem Fashion (1996–1998). In 1996, she began working with fur, creating clothing and accessories for Pino Furs, Me-Jay, Global Furs and Natural Furs. This experience led her to design fur coats for French fashion house Louis Féraud
After a brief stint teaching at Cégep Marie-Victorin, Maryse Roy returned to design in 2009 for Gaspari, a company run by Gisele Paul and Dean Kantakias. She designs collections of fur coats, accessories and ready-to-wear under the label Gaspari Montréal Maryse Roye Designer. As of 2018, her clothing was being sold at over 300 retailers in Canada and the United States.
Maryse Roy's work, 2018 © Nat Gorry. Photo courtesy of Maryse Roy
Maryse Roy's work, 2018 © Nat Gorry. Photo courtesy of Maryse Roy
Publication date
01/10/2004
Editor
Madeleine Goubau, Contributor
© MCCORD STEWART MUSEUM 2023