Mariouche Gagné is the founder and designer of Harricana, a Montreal brand of recycled fur clothing and accessories. Harricana is the name of a Quebec river that played an important role in the history of the fur trade.
The idea of breathing new life into this luxury material was conceived in 1993 when Mariouche Gagné was doing a master's in fashion management at Domus Academy in Milan, Italy.
While living in Europe, she entered the Fur Council of Canada's annual competition. Lacking enough new fur to make her project, she cut up an old coat belonging to her mother to complete the creations that would go on to earn her second prize.
Given the enthusiastic support of her friends and family, she decided to write her master's thesis on recycled fur.
Mariouche Gagné – Eco-luxury and Open Spaces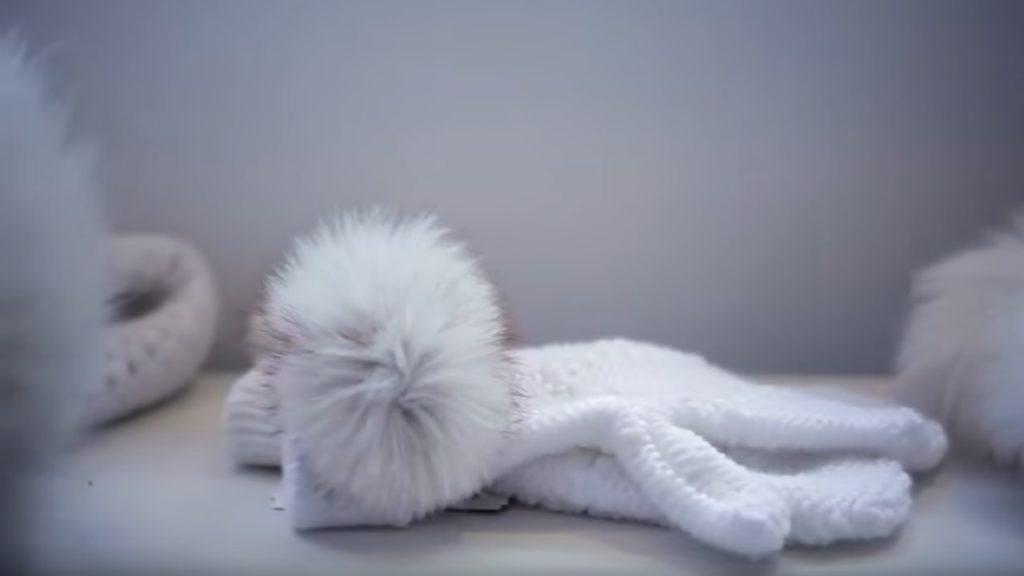 ModeMontréalTV, Mariouche Gagné – Eco-luxury and Open Spaces, 2010.
After interning with the styling service of Paris department store Le Printemps and training at the SAGA International Fur Design Centre in Denmark, Mariouche Gagné returned to Montreal to open her own atelier in 1994. Her studio was initially on St. Lawrence Boulevard and then moved to Ontario Street. In the early 2000s, exports accounted for over half of the company's sales. At the time, the Harricana brand was sold in over 18 countries, including Switzerland, France, Japan and Russia. In 2002, Mariouche Gagné opened her first store on St. Antoine Street. Every single item, from coats and cushions to mittens and pom pom key rings, was created using recycled fur.
In addition to designing her own lines, Mariouche Gagné has worked with other companies to create special projects or capsule collections.
Among these partners are the Rossignol and Chlorophylle sports and outdoor clothing brands, cosmetics companies Lise Watier and Dermatherm, hotels Le Germain and St. Paul, and the spas Strøm and Balnea.
In 2016, Mariouche Gagné opened a second store on McGill Street in Old Montreal. This was followed by a period of financial difficulties for Harricana, which had to seek creditor protection. The following year, it was purchased by Canadian Hat, a company run by businesswoman Diane Lanctôt that specializes in the creation and retail of hats. Mariouche Gagné has remained the designer of Harricana in addition to filling this role for the Canadian Hat division. The two brands now sell their products at the McGill Street store and via a shared e-commerce Website. The company's headquarters are on Jean-Talon Street.
Sources
www.harricana.qc.ca External link
Fournier, Marie-Ève. "Harricana à l'abri de ses créanciers" La Presse, La Presse Inc., 15 October 2016, https://www.lapresse.ca/affaires/economie/commerce-de-detail/201610/15/01-5030771-harricana-a-labri-de-ses-creanciers.php. External link
Lévy, Olivia. "Canadian Hat fait l'acquisition d'Harricana" La Presse, La Presse Inc., 5 May 2017, https://www.lapresse.ca/vivre/mode/201705/05/01-5095008-canadian-hat-fait-lacquisition-dharricana.php. External link
Brouillet, Sophie. "La personnalité de la semaine. Mariouche Gagné", La Presse, La Presse Inc., 3 November 2002, p. B8.
Gritli, Lamia. "La fourrure se démocratise", La Presse, La Presse Inc., 20 November 2001.
Gritli, Lamia. "Le look rajeuni : la fourrure recyclée", La Presse, La Presse Inc., 20 November 2001.
Lemery, Claude-Sylvie. "La matière réinventée", Le Devoir, Le Devoir Inc., 14 November 1997, p. B4.
Roy, Viviane. "Harricana", La Presse, La Presse Inc., 28 September 1994, p. C1.
Simard, Isabelle, Créer en récupérant : les enjeux de la récupération des textiles dans le design de mode québécois depuis 1980, thèse en ethnologie, Sainte-Foy, Université Laval, 2002, x, 429 f.
Publication date
01/10/2004
Editor
Madeleine Goubau, Contributor