Gaby Bernier
Born in Chambly, 1901 - Died in Montreal, 1976
About 1920 - mid-1960s
Evening coat (detail), Gaby Bernier, about 1930. Gift of Dinah Duffield, M979.41.1 © McCord Museum
Gabrielle "Gaby" Bernier got her first real job as a dressmaker when she was about 19 years old, working with established tailors Saint-Pierre and Oliver, on St. Catherine Street West. Afraid of ending up like one of the "old maids" around her in the master tailors' workshop, she found a new position after just a few weeks. Edna Jamieson hired her as the "première" (head of workroom) in her Peel Street salon, called Madame de Pompadour.  As it was the early 1920s, high-end women's clothing was still largely made-to-measure. Jamieson's salon, however, was up to the minute as it offered clients off-the-rack garments.
Gaby had a natural talent, adapting easily to this format, and her original pieces attracted new clients from among the most well-dressed women of Westmount and the Golden Square Mile.
Around 1924, the salon moved to number 2039 on the east side of Peel Street and was renamed The Pompadour Shoppe. Business was good and Gaby was very busy overseeing the meticulous application of sequins and beads to the long straight dresses so beloved of Montreal flappers. One day, completely overwhelmed, she asked her sister Eva, who had just left the convent, to help her. Two weeks later, Eva was hired as a regular staff member. From that moment on, the Bernier sisters were a team and always worked together.
In 1927, Gaby launched her own salon at 1327 Sherbrooke Street West, just one block from the Ritz-Carlton hotel. Sherbrooke became a destination for couture.
The women that Gaby dressed over the course of her 40-year career were members of the elite economic, political, or artistic milieu.
Some were even known internationally, like the Duchess of Windsor, Olympic medallist Barbara Ann Scott, and the wife of Ray Atherton, the United States Ambassador to Canada from 1943 to 1948.
Gaby liked to drape directly on her clients. When clients were unavailable for fittings, she would use a toile or drape on a wood dressmakers dummy instead. Gaby usually sewed a black or white French woven silk label reading Gaby Bernier, Montréal into her creations, sometimes with the address of the salon. The white label was designed for wedding dresses and light-coloured garments, while the black label was used in coats, suits and darker pieces. However, when things got very busy, the rules were not always strictly applied and sometimes the label was simply forgotten.
Beginning in 1927, Gaby travelled to Paris every August to see the new collections and get fresh ideas. Having been introduced to the couture houses and textile manufacturers by Marcel Louis, the Montreal-based representative of French silk manufacturer Bianchini-Férier, Gaby enjoyed seeing how things were done in Paris. Like all foreign buyers, she learned to memorize the models she saw at the fashion shows and make sketches of them back in her hotel room so she could reproduce them for her clients. Wanting to purchase couture, in 1927 she brought home a Molyneux, unable to afford a Chanel. In 1928, Gaby moved her salon across the street to 1316 Sherbrooke Street West, where she lived with her sister and mother.
Despite the stock market crash of 1929, the Bernier sisters' business continued to prosper, remaining one of the busiest salons throughout the 1930s and 1940s.
At that time, wealthy North American families still celebrated weddings with an opulence inspired by European aristocracy, which gave Gaby numerous opportunities to create spectacular dresses.
After eight years on Sherbrooke Street, the Bernier sisters had to move when their home was destroyed to make way for the construction of the new Holt Renfrew store, scheduled to open in 1937 at the corner of Sherbrooke and Mountain streets. Gaby took advantage of the situation to move her business into a larger space at 1524 Drummond Street, just behind the Ritz-Carlton. In addition, she retained the services of an on-site tailor and a furrier.
In the 1930s, Gaby introduced several innovations to the Montreal fashion milieu.
In 1936, for example, she set aside one room in her salon for a store that sold ready-to-wear clothing and accessories, just as Elsa Schiaparelli had done the preceding year. In the same decade, she was the very first Montreal fashion designer to make pantsuits, which caused a stir. In 1938, at the height of her powers, she organized a solo fashion show at the Ritz-Carlton, where she presented a collection of 48 complete outfits, including suits in the finest Lesur and Rodier wools, her own "haute fur" creations, and magnificent dresses made of Ducharne and Bianchini silk. Then came the war and Gaby, like many other designers, had to look to New York for new inspiration. In 1942, she again moved her salon. This time, she purchased a house at 1669 Sherbrooke Street West, where she lived and worked with her sister for 16 years. At that time, one could pay as much as $500 for a Bernier dress.
Throughout her career, Gaby was asked to create costumes. In late 1927, when the Lieutenant Governor organized a costume ball in Quebec City for over 1,000 guests, she made Patricia Deakin a costume of Diane de France, the daughter of Henry II. In 1929, she created the costumes for the three female leads in Dear Brutus, a James Barrie play staged by the McGill Player's Club. In 1944, she made ball gowns for Madeleine Ozeray and Janine Sutto, stars of the film Le père Chopin, directed by Fedor Ozep.
Gaby also made promotional garments for textile manufacturers. For example, in the early 1930s, she created models for Celanese, some of which were displayed to a select public at Le 9e, Eaton's chic ninth floor restaurant. About 1936, she created a collection of cotton clothing for Wabasso that was presented in fashion shows across Canada.
With the arrival of the 1950s, Gaby was still a very prominent couturier, but she was interested in other pursuits as well. A small hotel and restaurant in Oka and property investments required some of her attention. In the late 1950s, she finally sold her Sherbrooke Street building. Retiring to Oka in the 1960s, she left the world of couture. Suffering from poor health, she returned to Montreal in the early 1970s and died on June 23, 1976. Her archives are housed at the McCord Museum. To commemorate the designer's memory, in March 2003 Cégep Marie-Victorin inaugurated the Gaby Bernier Pavilion, which houses the institution's fashion programs. A street in Chambly has also been named after her. Pauline Gill has published a series of three historical novels inspired by Gaby Bernier's life.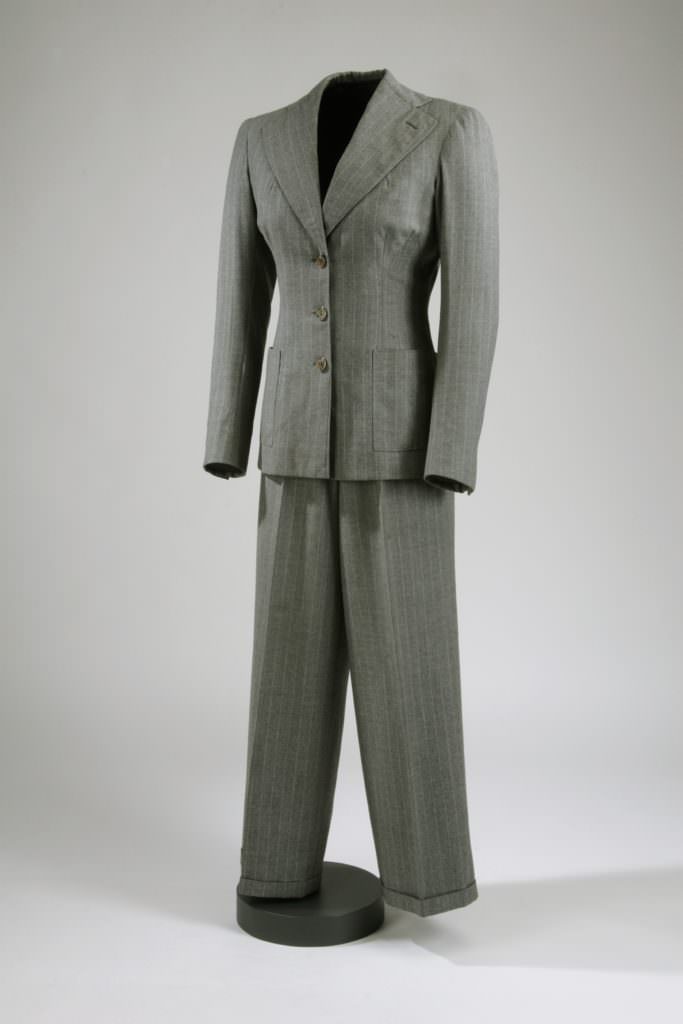 Pantsuit, Gaby Bernier, about 1942. Gift of L. M. Hart, M966.37.103.1-2 © McCord Museum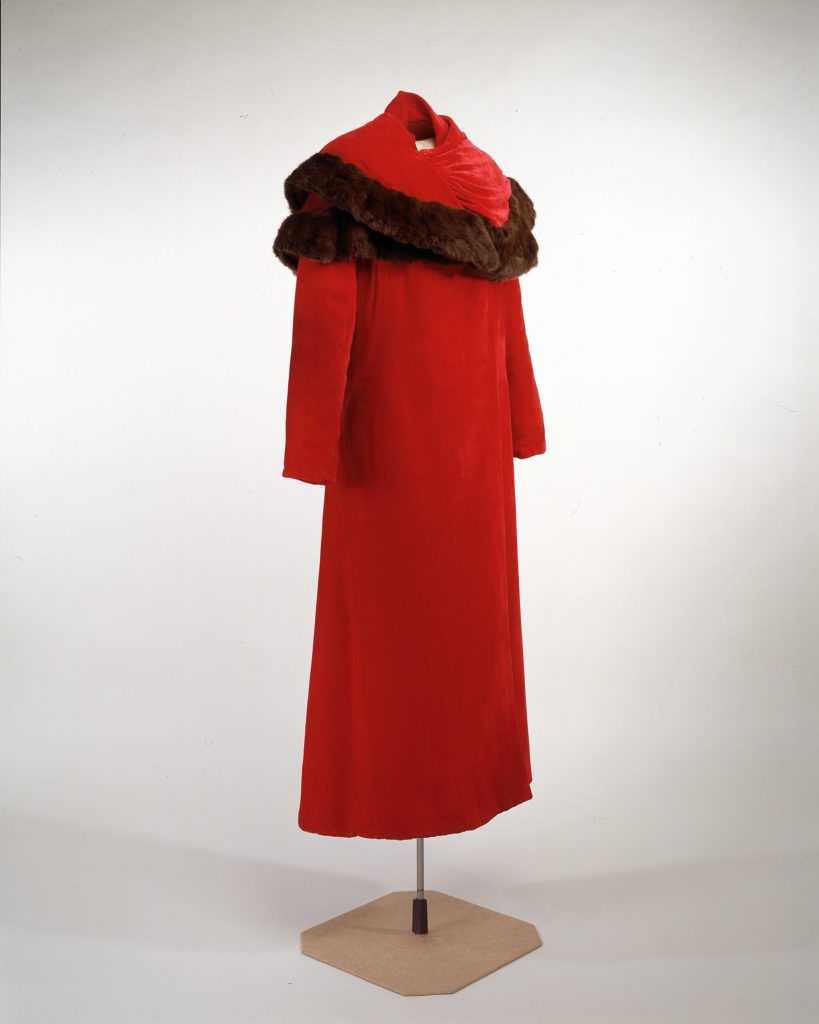 Evening coat, Gaby Bernier, about 1930. Gift of Dinah Duffield, M979.41.1 © McCord Museum
Sources
Guersney, Betty. Gaby. The Life and Times of Gaby Bernier Couturiere Extraordinaire, Toronto, Marincourt Press, 1982, 200 p.
Publication date
01/10/2004
© MCCORD STEWART MUSEUM 2023